Corporate special interest groups in our country such as the U.S. Chamber of Commerce have figured out that they can sway government in their favor if they market themselves as "good" and paint certain people as "evil."
This is why today we live in a world where our richest businessmen and businesses are marketed as "good," capable of doing no wrong, and all government is marketed as "bad." In this world, government exists only for the purpose of business owners and we're told we should just sit back and let the benefits trickle down. Only they haven't. In fact, the opposite has happened. The rich have gotten richer and more powerful at the expense of everyone else.
We've seen this before. The late 1800s and early 1900s saw the rise of rich monopolies that hurt the average person. Railroads favored certain large trusts over small farmers.Upton Sinclair wrote The Jungle in 1906 exposing the health violations, labor abuses, and unsanitary conditions of the meatpacking industry. Foods and drugs were mislabeled and consumers deliberately misled.
As a result, Theodore Roosevelt, a progressive Republican, introduced a platform based on a few simple ideas that would become known as the Square Deal. On April 5, 1905, he delivered his Square Deal speech in Dallas, Texas, where he laid out his philosophy:
It is all-essential to the continuance of our healthy national life that we should recognize this community of interest among our people. The welfare of each of us is dependent fundamentally upon the welfare of all of us, and therefore in public life that man is the best representative of each of us who seeks to do good to each by doing good to all; in other words, whose endeavor it is not to represent any special class and promote merely that class's selfish interests, but to represent all true and honest men of all sections and all classes and to work for their interests by working for our common country.
This is what everyone wants: A square deal for all.
[caption id="attachment_2018" align="aligncenter" width="550"]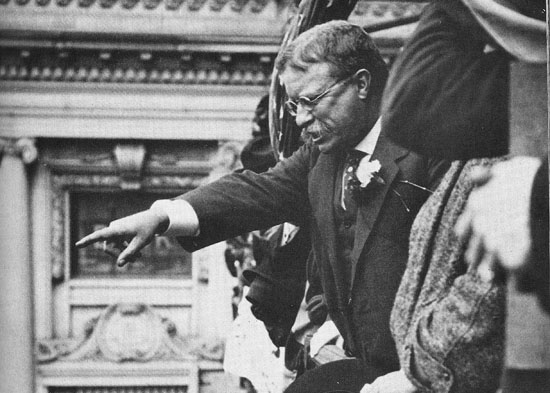 Theodore Roosevelt speaking from the balcony of the Hotel Allen, Allentown, Pennsylvania, 1914 (Lehigh County Historical Society).[/caption]