[caption id="attachment_2153" align="aligncenter" width="800"]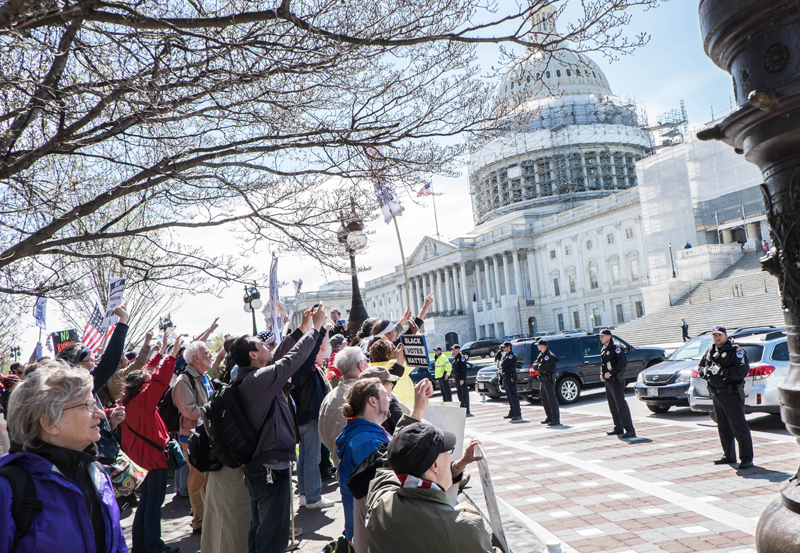 Democracy Spring protesters at the United States Capitol building, April 2016. (Michele Egan/Wikimedia)[/caption]
A week before the election, I went to a Hillary Clinton rally in Cincinnati, Ohio. It was a well-attended and polite affair on the riverfront in Smale Park. That night increased my worry about her chances to win.
Clinton seemed to be playing what I'll call "small ball." She spoke of policy issues, like which gun control measures she wanted to enact. She spoke about the threat Donald Trump posed to national security. And she spoke about how many people he had insulted.
What worried me was the mild interest. By comparison, Donald Trump filled U.S. Bank arena in Cincinnati in October.
Michael Moore wrote:
And therein lies the problem for November – who is going to have the most motivated, most inspired voters show up to vote? You know the answer to this question. Who's the candidate with the most rabid supporters? Whose crazed fans are going to be up at 5 AM on Election Day, kicking ass all day long, all the way until the last polling place has closed, making sure every Tom, Dick and Harry (and Bob and Joe and Billy Bob and Billy Joe and Billy Bob Joe) has cast his ballot?
Sadly, he was right. Trump even did better with minorities than Romney did in 2012.
In part, it was because he picked a big fight.