From the category of You Can't Make This Stuff Up:
This week John Kasich issued proclamations honoring Ohio's public employees and teachers.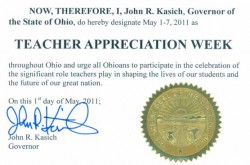 Dear Union Thugs … ahem … err, Ohio Teachers …
Ok, that's not how it starts.
Read the full text here and next time the governor goes after public employees, please remind him of his words.