Recently, I got into a discussion with some conservatives about whether Paul Ryan was a Muslim-loving socialist RINO.
I love these types of discussions because it gives me the chance to ask questions like:
What does it take to be a real Republican these days?
Things then get weird because people haven't really thought about it much. They just seem to know it when they see it. So I continue the conversation and then ask questions like, which of our presidents were libtards? You know, the term that some on the right love to throw around.
Here's my (surprisingly long) list.
PRESIDENT
TERM
BELIEFS
CONCLUSION
1. George Washington

Non-partisan

1789-1797
Oversaw the creation of a strong federal government, implemented a tax system, and created a national bank. Stayed out of the French Revolutionary Wars. In his farewell address, he warned against partisanship, sectionalism, and involvement in foreign wars.
Weak, government-loving socialist.
2. John Adams

Federalist

1797-1801
Promoted a strong central government, restarted the U.S. Navy and created the Marine Corps. Penned "Thoughts on Government" in which he argued for a government that promoted "happiness, to the greatest number of persons, and in the greatest degree, is the best."
Federalist … doesn't that mean government?

Libtard.

3. Thomas Jefferson

Democratic-Republican

1801-1809
Supported public education and freedom of the press as the cornerstones of democracy. Sought to expand land distribution to the poor. Advocated for gradual emancipation of slaves. Authored the Virginia Statute for Religious Freedom that became the basis for freedom of religion in the Constitution. Believed in the separation of church and state.
King of the libtards.
"Instead of an aristocracy of wealth, of more harm and danger than benefit to society, to make an opening for the aristocracy of virtue and talent, which nature has wisely provided for the direction of the interests of society and scattered with equal hand through all its conditions, was deemed essential to a well-ordered republic."
– Thomas Jefferson, Autobiography of Thomas Jefferson, 1821.
PRESIDENT
TERM
BELIEFS
CONCLUSION
4. James Madison

Democratic-Republican

1809-1817
Wrote the Federalist Papers with John Jay and Alexander Hamilton. In a note opened after his death in 1836, he stated, "The advice nearest to my heart and deepest in my convictions is that the Union of the States be cherished and perpetuated."
Statist.
5. James Monroe

Democratic-Republican

1817-1825
Established the Monroe Doctrine stating the United States would neither meddle in or interfere with the concerns of European powers as well as asserted the U.S. opposition to any European interference in the Americas. Supported the founding of colonies in Africa for free African Americans that eventually became Liberia. Monrovia, the capital of Liberia, is named for him.
Loony leftist.
6. John Quincy Adams

Democratic-Republican

1825-1829
Ended the war of 1812. Noted as one of America's greatest diplomats. Predicted the dissolution of the union from slavery. Supported infrastructure improvements such as roads, ports, canals, a national university, and funding for the arts and sciences.
Hippie.
"There is one principle which pervades all the institutions of this country, and which must always operate as an obstacle to the granting of favors to new comers. This is a land, not of privileges, but of equal rights."
– John Quincy Adams, in a letter written while Secretary of State
PRESIDENT
TERM
BELIEFS
CONCLUSION
7. Andrew Jackson

Democratic

1829-1837
Denied the right of states to secede from the union or to nullify federal law.
Unionist.
8. Martin Van Buren

Democratic

1837-1841
Set up a system of bonds to deal with the national debt and established an independent treasury system. Advocated for lower tariffs and free trade. Considered slavery immoral but sanctioned by the Constitution.
Despite support for free trade and slavery as Constitutional, was a Democrat. Therefore, a libtard (though one of our favorite libtards).
9. William Henry Harrison

Whig

1841 (died in office)
Promised to reestablish the Bank of the United States and extend its capacity for credit by issuing paper currency.
Libtard.
10. John Tyler

Whig-Independent

1841-1845
Fought to preserve the union through expansionist policies. Annexed Texas. Signed the Webster–Ashburton Treaty with Britain and the Treaty of Wanghia with Qing China.
Ruined Texas forever. We will never forget. Remember the Alamo!
11. James K. Polk

Democratic

1845-1849
Won Mexican-American War. Built an independent treasury system that lasted more than 50 years. Oversaw the opening of the Smithsonian Museum and the first postage stamps.
Government will never work. Moron.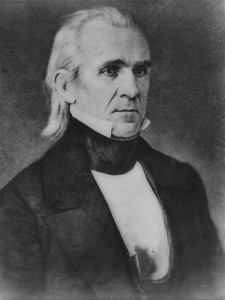 "Thank God, under our Constitution there was no connection between church and state."
– James K. Polk, diary entry, October 14, 1846
PRESIDENT
TERM
BELIEFS
CONCLUSION
12. Zachary Taylor

Whig

1849-1850
War hero. Fought to preserve the Union.
Thug.
13. Millard Fillmore 

Whig

1850-1853
Supported the Compromise of 1850 that briefly ended the crisis over slavery. Refused to join the Republican Party when the Whigs broke up in 1854-56.
Traitor.
14. Franklin Pierce

Democratic

1853-1857
Enforced the Fugitive Slave Laws.
Against fugitives. But still a law-enforcing Dumbocrat.
15. James Buchanan

Democratic

1857-1861
Believed secession was illegal and also going to war was illegal. Failed to deal with the problem of slavery and secession in the South.
Weak statist.
16. Abraham Lincoln

Republican

1861-1865
Preserved the union. Ended slavery. Promoted rapid modernization of the economy through banks, tariffs, and railroads.
The. Worst. Socialist.
"It is rather for us to be here dedicated to the great task remaining before us — that from these honored dead we take increased devotion to that cause for which they gave the last full measure of devotion — that we here highly resolve that these dead shall not have died in vain — that this nation, under God, shall have a new birth of freedom — and that government of the people, by the people, for the people, shall not perish from the earth."
– Abraham Lincoln, Gettysburg Address
PRESIDENT
TERM
BELIEFS
CONCLUSION
17. Andrew Johnson Democratic
1865-1869
Fought for restoration of states that seceded. Directed Southern states to hold conventions and elections to reform their governments.
Libtard.
18. Ulysses S. Grant

Republican

1869-1877
Led the effort to remove vestiges of Confederate nationalism and slavery, prosecuted the Ku Klux Klan, and enforced voting laws and rights through the army and the Department of Justice.
RINO.
19. Rutherford B. Hayes

Republican

1877-1881
Believed in meritocratic government, equal treatment without regard to race, and education. His biographer said that his greatest achievement was to restore popular faith in the presidency and reverse the deterioration of executive power that had set in after Lincoln's death.
Commutard.
20. James A. Garfield

Republican

1881-1881
Fought for freedom for all, including African Americans, and public education. When told that his party, including his own campaign manager, Stephen W. Dorsey, was involved in corruption at the Post Office, Garfield directed the attorney general and postmaster general to root out the corruption in the Post Office Department "to the bone."
Freedom hater.
"The world's history is a divine poem, of which the history of every nation is a canto, and every man a word." – James A. Garfield, The Province of History (1856)
PRESIDENT
TERM
BELIEFS
CONCLUSION
21. Chester A. Arthur

Republican

1881-1885
Lowered excise taxes (taxes paid by consumers) on everything but liquor. Spent a surplus of $145 million on internal improvements.
Big government spender.
22. and 24. Grover Cleveland

Democratic

1885-1889 and 1893-1897
Cleveland was noted for his honesty, integrity, and commitment to the principles of classical liberalism. He relentlessly fought political corruption, patronage, and bossism. His reputation as a reformer was so strong that the like-minded wing of the Republican Party voted for him in the 1884 election.
Libtard. Dumbocrat.
23. Benjamin Harrison

Republican

1889-1893
Passed the Sherman Antitrust Act. Presbyterian.
Hates business.
25. William McKinley

Republican

1897-1901
Raised protective tariffs to promote American industry.
Lemming.
26. Theodore Roosevelt

Republican

1901-1909
Championed "Square Deal" policies promising average people fairness. Nicknamed "the Trust Buster," he curbed the power of corporations—including breaking up Rockefeller's Standard Oil—and spoke out in favor of organized labor.
The Republic of Soc-landia.

("Sosh-land-i-a")
"My action on labor should always be considered in connection with my action as regards capital, and both are reducible to my favorite formula—a square deal for every man."
— Teddy Roosevelt
PRESIDENT
TERM
BELIEFS
CONCLUSION
27. William Howard Taft

Republican

1909-1913
Continued Roosevelt's trust-busting policies by filing 90 antitrust suits, including one against U.S. Steel.
RINO.
28. Woodrow Wilson Democratic
1913-1921
Passed legislation to establish the Federal Reserve and the Federal Trade Commission. Passed the Clayton Antitrust Act and the Federal Farm Loan Act. Averted a railroad strike by establishing an eight-hour workday for the railroads. Promoted the League of Nations, forerunner of the United Nations. Won the 1919 Nobel Peace Prize.
Moonbat.
29. Warren G. Harding

Republican

1921-1923
Urged disarmament and lower defense costs. Negotiated with Britain and Japan to agree to build less naval war ships. Fought for support and investment in highways, aviation, and radio. Raised agricultural tariffs to protect American farmers.
Business-bashing elitist.
30. Calvin Coolidge

Republican

1923-1929
Increased the estate tax and bolstered it with a gift tax. Improved programs for Native Americans and called for laws to prohibit lynching. Appointed some African Americans to federal office and signed the Indian Citizenship Act granting citizenship to all American Indians, and commissioned a reform panel to examine federal institutions and programs dealing with Indian nations.
Effete, weak-kneed Nancy.
31. Herbert Hoover

Republican

1929-1933
Fought the Great Depression with moderate public works projects such as the Hoover Dam.
Nanny-state loving nanny.
32. Franklin D. Roosevelt

Democratic

1933-1945
Single-handedly pulled the United States out of the Great Depression with his New Deal policies. He created numerous programs to support the unemployed and grew labor unions while regulating business and finance. Won a record four presidential elections. Created the Securities and Exchange Commission, the Federal Deposit Insurance Corporation, and the social safety net. Elaborated four essential freedoms the U.S. should fight for including equality of opportunity, jobs for those who can work, the ending of special privilege for the few, and the preservation of civil liberties for all. Also basically won World War II.
Un-American, socialist, statist commutard.
"For there is nothing mysterious about the foundations of a healthy and strong democracy. The basic things expected by our people of their political and economic systems are simple. They are:
Equality of opportunity for youth and for others.
Jobs for those who can work.
Security for those who need it.
The ending of special privilege for the few.
The preservation of civil liberties for all."
– Franklin Delano Roosevelt, Four Freedoms speech, 1941.
PRESIDENT
TERM
BELIEFS
CONCLUSION
33. Harry S. Truman

Democratic

1945-1953
Won World War II. Demobilized the military after the war and advocated for national health insurance and civil rights. Enacted the Housing Act of 1949.
Criminal-coddling deviant.
34. Dwight D. Eisenhower

Republican

1953-1961
Reduced federal deficits and lowered funding for the armed forces. Established NASA. Warned against the dangers of massive military spending and the military industrial complex in his farewell speech to the nation.
Islamofascist.
35. John F. Kennedy
1961-1963
Signed the Nuclear Test Ban Treaty. Established the peace corps and the "New Frontier" program, with the biggest frontier being space. Challenged America to put a man on the moon by the end of the 1960s. Raised the minimum wage and social security benefits. Protected the Freedom Riders in the South.
Hippie-loving, soft on crime, Catholic New England liberal.
36. Lyndon B. Johnson

Democratic

1963-1969
Signed massive civil rights legislation including the Voting Rights Act. Designed the "Great Society" legislation. Established Medicare and Medicaid and public broadcasting. Funded urban and rural development. Launched the War on Poverty.
Reverse racist.
37. Richard Nixon
1969-1974
Initiated détente and the Anti-Ballistic Missile Treaty. Imposed wage and price controls for short periods and enforced desegregation of the South. Established the Environmental Protection Agency (EPA). Presided over the Apollo 11 moon landing.
Democrat.
38. Gerald Ford
1974-1977
Signed the Helsinki accord. Pulled out of Vietnam.
Moron.
"Let us not despair but act. Let us not seek the Republican answer or the Democratic answer but the right answer. Let us not seek to fix the blame for the past – let us accept our own responsibility for the future."- John F. Kennedy, Loyola College Alumni Banquet speech
PRESIDENT
TERM
BELIEFS
CONCLUSION
39. Jimmy Carter

Democratic

1977-1981
Pardoned Vietnam draft dodgers. Created the Department of Energy and the Department of Education. Pursued the Camp David Accords, the Panama Canal Treaty, and the second round of the Strategic Arms Limitation Talks (SALT II).
ACLU-loving loser.
40. Ronald Reagan

Republican

1981-1989
Brought government into the War on Drugs. Increased military spending. Started deficit-spending in order to "grow" the economy. Supported the Brady Bill and gun control legislation after leaving office. Survived an assassination attempt while in office. Raised social security taxes five times.
Freedom-hating, big deficit-spending libtard.
41. George H.W. Bush

Republican

1989-1993
Raised taxes to deal with deficits. Fought to increase exploration of the moon and to build a space station. Sent aid to Somalia after their civil war. Passed the Americans with Disabilities Act and the Civil Rights Act of 1991. Increased federal spending for education, childcare, and advanced technology research. Passed the Radiation Exposure Compensation Act.
Terrorist-coddling, thumbsucking socialist.
42. Bill Clinton

Democratic

1993-2001
Fought to pass national health care reform. Passed the State Children's Health Insurance Program. Signed the Oslo Accords and tried to address the Arab-Israeli conflict. Left office with a budgetary surplus for the first time since 1969.
Statist hippie atheist RINO.
43. George W. Bush

Republican

2001-2009
Passed Medicare prescription drug benefits for seniors. Funded the AIDS relief program known as PEPFAR. Believed in deficit spending to finance wars. Passed Troubled Asset Relief Program to bail out banks after financial collapse in 2008.
Kennebunkport-loving, New York Times reading, Dubyatard socialist.
44. Barack Obama

Democratic

2009-Present
Passed an economic stimulus program to pull the U.S. out of recession and avert the possibility of a depression. Passed the Patient Protection and Affordable Care Act. Passed legislation to reform Wall Street and the Consumer Protection Act. Proposed modest gun control legislation after the Sandy Hook Elementary school shootings.
Socialislamofascist-redistributionish-communitarian.
Cross posted at Daily Kos. 
—