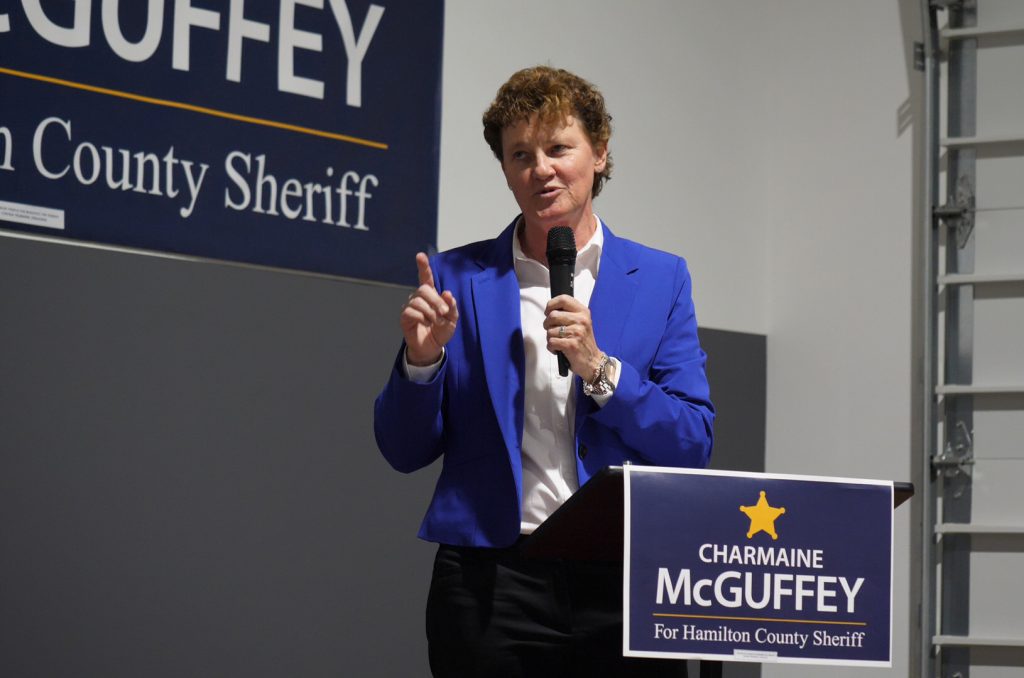 In Hamilton County, OH, the county I live in, the sheriff's office has recently been involved in several high-profile police brutality incidents. In May 2018, the sheriff's office agreed to a $500,000 settlement after a corrections officer, Jason Mize, shoved a 61-year-old man, Mark Myers, headfirst into a cinderblock cell so hard he had to be hospitalized for a concussion, lacerations to his head, and a broken hip. The incident was so violent that a nurse at the jail told a colleague: "I hope he's not dead." The settlement, which also involves a federal lawsuit, alleges that the current sheriff's policies "were the driving force behind the constitutional violation."
One of the things I often hear in cases like this is: "Maybe this man somehow deserved this treatment." Myers' situation was that the 61-year-old had been arrested after walking out of a Home Depot with $120 of electrical equipment that they thought he hadn't paid for. What had happened was actually a computer error involving payments he'd made online. Charges were dismissed once the error was figured out.
Mize's supervisor initially determined that the use of force complied with departmental policies. The matter was reviewed by others in the chain of command who requested an Internal Affairs investigation. In the Internal Affairs report, the head of the jail at the time, Major Charmaine McGuffey said: "Mize should be arrested and fired for his actions." Officer Mize ultimately was allowed to resign from the sheriff's office. After which, the Federal Bureau of Investigation began investigating the incident and federal charges were brought against him.
We'll come back to this incident as there's more, but first I'd like to first introduce you to Charmaine McGuffey, an employee of over 30 years with the sheriff's office who, upon being appointed to run the Hamilton County Jail in 2013, brought the jail from a rating of worst in Ohio to the best jail in the state, meeting all state standards within three years. During her tenure, McGuffey also won praise for helping addicted inmates turn their lives around. She is now running for sheriff.
1. First, can you tell us about your background here in Cincinnati and your experience with the sheriff's office?
I was raised with two sisters in the Price Hill area of Cincinnati, Ohio, by a single mom. We were very poor but we were fortunate to have a mom who was very dedicated to our well-being. My mom worked hard, she was often gone when my sisters and I got ready for school in the morning and she was still at work when we got home from school.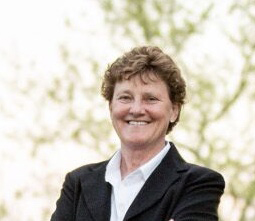 In many ways, the community raised us. Our neighbors helped us, kept an eye out for us, and included us in their activities. The Cincinnati Recreation Commission played a big part in my life. I participated in summer programs designed to engage at-risk children. In fact, that is where I got my very first job.
I am also very grateful to the teachers at Western Hills High School who taught me what was possible. However, I also had to overcome a lot of doubts along the way. When I was 14, I announced to my favorite uncle Nick, himself a retired police officer, that I wanted to become a police officer. He looked at me and said, "women can't be cops and cops can't be women." I respected my uncle but I decided right then and there that I was going to become a police officer. I didn't know how I would do it but I knew I was going to do it. In fact, as I grew up, I heard the word "can't" more than I heard "could."
Yet I graduated from the University of Cincinnati with a Bachelor's Degree in Criminal Justice and went on to spend 33 years in the sheriff's department. I was promoted through the ranks eventually becoming major, in command of Jail and Court Services, the first woman ever to achieve this rank in the history of the Hamilton County Sheriff's Department.
2. When you were head of the Hamilton County jail you received accolades for bringing it up to state standards. How did you improve the jail? What worked? What was a struggle?
The Hamilton County Justice Center is the third largest jail in the state of Ohio with a population capacity of 1,240. With an annual budget of $39,200,000 million, it is one of 313 local detention centers in Ohio's 88 counties. Statewide, our jails house 20,000 inmates in facilities managed by local sheriff departments.
As major of Jail and Court Services, I was charged with the command of 500 uniformed men and women as well as 80 civilian support staff personnel. Within the first three months of my being promoted to major of Jail and Court Services, the Hamilton County Justice Center was ranked the worst jail in the state of Ohio by the Department of Rehabilitation and Corrections. That ranking was based on an onsite inspection of the jail facility and its operation. The Justice Center failed 48 of the 69 standards that were inspected. It was my job to bring the Justice Center up to standard.
Because of a series of budget cuts to the sheriff's office from 2008 to 2012, training for the jail had been suspended and the personnel assigned to training for the jail were laid off from the sheriff's department. As commander, I immediately began the process of collaborating with newly appointed training personnel to rebuild a comprehensive training program and established a cadre of training personnel.
I created a team of supervisors that met biweekly to evaluate our jail compliance progress. The key to creating sustained change was to train supervision and line staff. An important part of maintaining compliance was implementation of a system of in-house inspection by supervisors. Historically, supervisors are mandated by policy to complete rounds throughout the day. We improved the productivity of these rounds by requiring that supervisors inspect the daily activities log. We discovered that some jail officers were either not documenting or were not using correct coding for activities.
We also discovered that prisoner social service requests were not being processed in a timely manner. As well, there were policy issues that needed to be addressed. For instance, to achieve compliance with the use of force standards (essential), the policy needed to include an addendum to the Sheriff's Office General Order outlining the use of force policy for the jail. The compliance section assigned to our road patrol division insisted that the sheriff's office use of force policy not include a separate jail service division supplemental policy. They had the opinion that having just one policy for the entire department pertaining to use of force would make reporting and investigation more efficient.
The administration of the sheriff's department also decided that our department should adhere to only one set of procedural guidelines that applied to all sections of the sheriff's office: Road Patrol, Court Services and the Jail.
At my insistence, I met with the command staff to discuss the jail standards and the reasons it was imperative for us to implement the supplemental use of force policy for the jail. It was literally the last standard that we received approval for just before the deadline. The use of force policy is critical to improving jail procedures as it mandates that any use of force that occurs in the jail be documented with video footage that is attached to the report if a camera has captured that activity.
When I assumed the position of major of Jail and Court Services our jail had been ranked the worst jail in the State of Ohio and under my leadership we ranked the best of the large jails in Ohio.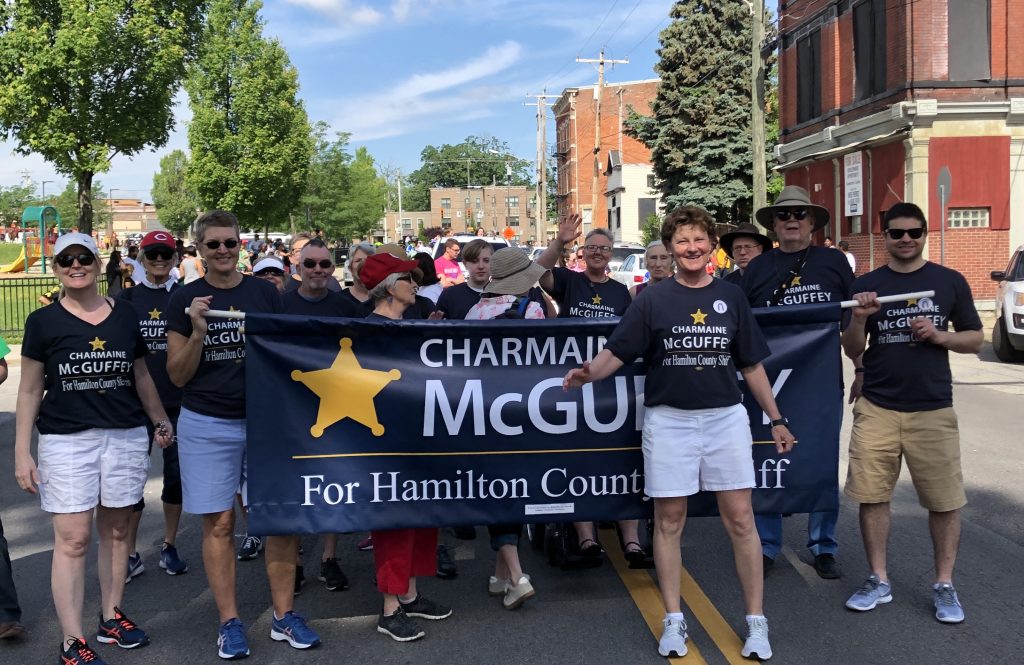 3. When I heard you speak one of the things I was struck by was that you said you invited in outside agencies to help. Tell us a little about this and how it made a difference.
As the commander of the jail, I wanted to connect inmates with social services in the community in order to enhance their ability to re-enter the community as successfully as possible upon leaving the jail. To start that, I invited agencies to a weekly meeting we named WRAP (Working to Refer Appropriate Placement). At times we had 50 people in the room.
The agencies were interested, engaged, and creative. Ideas emerged around the table that resulted in a number of areas of the jail (pods) being re-purposed to address specific ways to improve safety and services. As an example, with the rise of the heroin crisis in our community, we created the women's heroin recovery program, that targeted resources to help women start their recovery process while they are in jail in order to move out of the jail with success and a support system.
I actually went to the county administration to get some seed money to help get this program started and I was turned down—but I knew this was the right path so I did it anyway—and, at NO COST to our budget. Looking back, I learned a valuable lesson when my funding request was denied because it forced me to find ways to engage the community social service agencies in Cincinnati to help make it happen.
In addition, we developed an exit program for men with six months or less on their sentence. It was designed to connect them with community resources before being released so when they are released, they have a support plan for success.
We had a Sister of Charity who attended the meetings who had a passion for working with the veterans who were in jail. At her prodding, we also created a veteran's program that allowed inmates who had experienced trauma to receive special services and attention.
I want people to know that I am a law and order type of law enforcement leader. However, I also know that the progressive jail policies I championed, with a focus on rehabilitative, rather than punitive strategies, have been proven to lower recidivism. Research has proven that comprehensive justice reform results in overall healthier families, safe communities, and it saves money. It is my belief that, justice is a bargain, injustice is expensive.
4. What do you see as the biggest current issues with the sheriff's office?
The overarching issue is that we have a 1950s model of hard incarceration rather than one of quality justice. Justice reform is not on the horizon, it is not months away, it is here and it is now. Justice systems across the nation are embracing reform with changes to services, bail reform, and community engagement. To bring those types of comprehensive changes to Hamilton County, you need a sheriff who is engaged, passionate, and has a vision and a plan.
The sheriff's office is also millions of dollars over budget. Because of this, other county agencies, such as Jobs and Family Services, the prosecutor's office, and probation are not able to receive the funding they need. Our current sheriff has stated that, "he was not hired to manage a budget." I wholeheartedly disagree with that statement. It is a critical part of the job and the sheriff is accountable to the taxpayers for the money that is spent.
As an example of issues that affect the budget that are not being addressed is, in 2018, the current sheriff stated he hired 95 line-staff officers to work in the jail. By 2019, 94 officers in the department had resigned or left for other departments. Attrition like that is not a success. Staffing is a critical part of the budget, and the cost of training and equipping those officers is lost and mismanaged. Fixing the staffing model would go a long way toward reducing costs.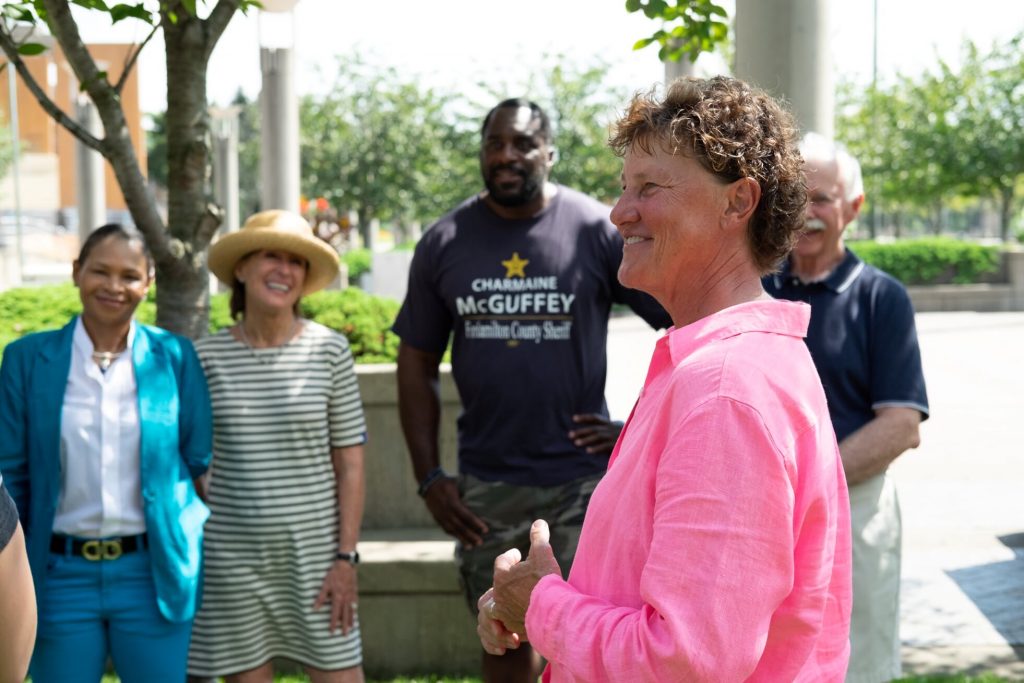 5. Based on your experience, what could we do to make things better?
The sheriff's office touches every aspect of the justice system, from law enforcement, to the jail, and the courts. I have a plan that is based on: accountability, reform, and community engagement.
Accountability means we ensure safe communities. Communities where uniformed officers feel safe to enforce the laws, and citizens feel that our system of justice will be fair and equal. If we have a lack of accountability, it undermines trust in the entire system.
Transparency is the key to accountability. Transparency related to day-to-day operations and to how our tax dollars are spent. The sheriff's department has the largest part of our county's budget and taxpayers deserve to have someone in leadership who will take responsibility to manage the budget in a way that increases efficiency and effectiveness.
When we talk about quality reform, the reality is there are people in our society who are a danger to others and they need to be incarcerated, some for the rest of their lives. However, there are also people languishing in our jails and prisons who embrace rehabilitation and want to return to their families and their community and we can help them achieve that goal. It not only helps them, it strengthens our community.
In my 33-year career, I have witnessed justice and I have witnessed injustice. One of the experiences that helped shape how I work in the system is a day when I encountered a young man seated on a bench in the jail. He was waiting to be transported. As I walked toward him, I said, "Good morning, sir. How are you?"
And do you know how he responded?
He said, "I've been in this jail for a week and a half, and you are the first person to treat me with any respect. I thank you for that."
The experience of jail can be isolating and drains people of any hope. That incident taught me a simple lesson about humanity and dignity, and it's a lesson I will bring to the office of the sheriff. You may ask yourself, why is this important to people who've had no interaction with the criminal justice system? It doesn't matter if you are a Democrat, Independent, or Republican, there is something in justice reform for everyone.
If we aren't preparing and giving those who are incarcerated a way to improve their lives to re-enter our community as productive citizens, then we aren't doing our job and we are letting the community down. Accountability, reform, and community engagement have been proven to lower recidivism and leads to healthier families, safer communities, and saves taxpayers' dollars.
6. To bring things back to the Mark Myers incident, you were fired in 2017 by the current sheriff after you refused to accept a demotion to a lower-paying position. You filed a lawsuit against the sheriff's office that is currently ongoing. Can you tell us what happened?
The incident that you are asking about is more commonly referred to as the Mize incident. Mize is the name of the officer at the center of that use of force incident. During my tenure as commander of Jail and Court Services, I was faced with the most difficult decision of my career. I was expected to go along with decisions that did not hold officers accountable for excessive use of force. I was told to go with the flow, to be quiet, and to stay in my lane. While it was difficult to stand up to the administrators on this issue, it was actually easy for me to make the decision to do so. Throughout the five years that I served as major, I voiced my disagreement with findings of Internal Affairs related to holding supervisors and officers accountable for reporting use of force, and insisted that jail policies outlining procedures for de-escalation be followed.
I stood up for what was right and summarily, I was accused of interfering with investigations, being hostile to supervisors and officers, and not being truthful. I became the subject of an Internal Affairs investigation. During the investigations, I began to receive hostile treatment by some administrators. The head of Internal Affairs personally told me that I was in big trouble, but would not explain further.
Subsequently, a complaint was made to Internal Affairs by my assistant, that I was hostile to her because I expressed that she was not meeting her job standards. I had sought to hire an additional person with a higher skill base who would be more motivated to work toward achieving future goals for the jail. Internal Affairs decided to broaden their investigation of her complaint to include supervisors and officers who had disagreed in the past five years with my decisions and my insistence that policies and procedures be followed.
What followed was the creation of a report written by Internal Affairs that outlined accusations of my conduct being hostile. One such accusation was that I stated that command staff "should mentor and promote more women" and as a result, I was accused of being "pro-lesbian." I was never given an opportunity to address the accusations outlined in the report or even to have the opportunity to read the report before the current sheriff met with me stating that based on the findings of Internal Affairs, he was firing me if I did not agree to a demotion. I subsequently filed a federal lawsuit alleging wrongful firing and violations of my civil rights.
7. Up to this point, I haven't mentioned that you're also openly gay because I wanted to focus on your experience and what could be done to improve things at the sheriff's office. I understand this came out in a very public incident that probably didn't help you in your career. Can you tell us about this incident and/or some of the challenges in being openly gay in a position like yours?
You are referring to an incident that happened nine years ago, in April of 2010. A few of my friends and I were attending an event at a gay bar in Covington, KY., There were 4 of us. Unfortunately, much of what has been reported about the incident is incorrect. In reality, this was a targeted, unjust action by police that should not have happened. We were stopped simply because we were exiting a gay bar. It was about 11 PM at night and it was dark outside. We had exited the bar and were walking to our car in a crosswalk. There was literally no one else around and no traffic on the street. As we crossed the street, I heard someone yelling loudly "Drop it, drop it now, drop it right now. You're under arrest. Drop it." I can tell you, when you're a cop, those are gun words. I literally thought I was going to be shot. It scared the hell out of me. I looked around and couldn't see anybody. It was dark. There was no traffic. I eventually saw two police officers stationed under an awning about 40 feet away, angled at the bar door. They were yelling at someone standing inside the doorway of the bar. I immediately recognized that they were targeting the bar. They had alarmed me and I was very upset about it.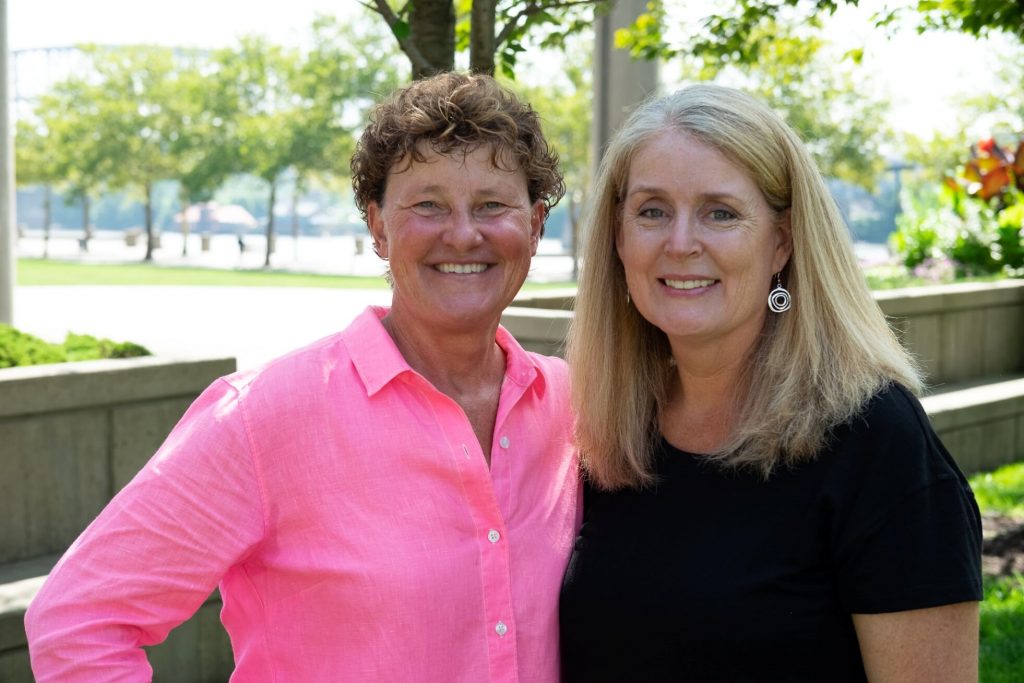 I yelled over to them, "You guys are targeting a gay bar and that's not right." And I also said, "You should find something better to do with your time."
After I said that, one of the officers approached me and told me that he was going to arrest me. It was then that they discovered that I was a police officer and that two of the women with me were also police officers. The officer then decided that instead of arresting me, he would issue me citations for menacing, intoxication, and disorderly conduct. These citations were issued without merit.
I immediately reported the incident to my chain of command the very next day. The citations were summarily dismissed and expunged within a couple of months of the incident. However, I was given a 5-day suspension for actions considered "conduct unbecoming" and the disciplinary report went into my personnel file. That report remains the only discipline in my file spanning a 33-year career. I think that it is important to note that I also have received over 100 commendations in my career.
I called out wrong behavior of a police officer and I paid a price for it. I expect people who wear a badge to do the right thing and that didn't happen in this case. I will continue to speak out when justice is not served. I was once asked by a reporter, "so what did you learn from that incident." Without hesitation, I answered, "I learned what it is like to be targeted for who you are and not something that you did, and that's not a good feeling."
Three years after the incident, I was promoted to major in the Hamilton County Sheriff's Office.
Former Major and Commander, Charmaine McGuffey is a candidate for Sheriff of Hamilton County, Ohio. McGuffey is challenging the incumbent in the March 2020 Democratic primary. Charmaine, a 33-year veteran with the Hamilton County Sheriff's office, achieved the rank of Major and Commander of Jail and Court Services, the highest rank ever achieved by a woman in the department. Charmaine resides in downtown Cincinnati with her wife Christine Sandusky and their two dogs, serves on several non-profit boards, and is a certified self-defense training instructor.
Cross posted to Daily Kos.