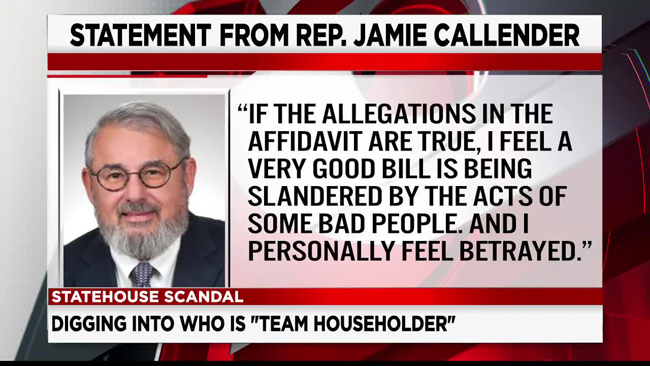 The FBI indictment of Republican and former Ohio House Speaker Larry Householder mentions 21 candidates who FirstEnergy worked to elect so that they would vote for Householder as Ohio Speaker.
From the indictment:
"The Enterprise spent Generation Now money on approximately 21 different candidates – 15 (including Householder) in the primary , and six additional candidates in the general election. Most of these candidates won the 2018 general election. All who won voted for Householder as Speaker; and all but two, voted for the legislative bailout for Company A <FirstEnergy>."
According to the indictment, this cost roughly $125,000 to $150,000 per candidate or $2.5 – $3 million.
Who are the 21 candidates?
1. Larry Householder himself
First on the list, Larry Householder. The FBI indictment specifically mentions Householder's funneling of FirstEnergy money to his own political campaign.
"The Enterprise used some of the Company A <FirstEnergy> money to help enact the bailout legislation. Additionally, the Enterprise used millions of dollars of Company A bribe money to further Householder's political ambitions by funding his own campaign, and the campaigns of members and candidates who would eventually support Householder's election for Speaker. The Company A payments funded the operating costs of the Enterprise and paid for Householder's political and campaign staff. The Defendants also paid themselves personally millions of dollars in Company A bribe payments, funneled through Generation Now and other entities controlled by the Enterprise. This includes allowing for the payment of at least $500,000 in what appears to be personal benefits to Householder that was passed through Longstreth controlled accounts."
Outside of Householder, the indictment cites nine representatives without using their names (Eg. Representative 1, Representative 2, etc).
Representative 1 is Ryan Smith (former Republican representative OH-93)
Representative 1 is the person who became Speaker of the House before Larry Householder.
Representative 1 received no money or help from Householder or any of the other members of the criminal enterprise. He is listed in the indictment solely as the person who Householder was competing with for Speaker of the House.
Representative 2 is J. Todd Smith (Republican OH-43, Includes parts of Dayton, Preble County, and Western Montgomery County)
The person listed as Representative 2 in the indictment has been identified as J. Todd Smith.
Federal prosecutors point to Ohio House District 43 as one of the clearest examples of how Householder illegally used dark money to help a Republican candidate win a race so this candidate would then support him for Speaker.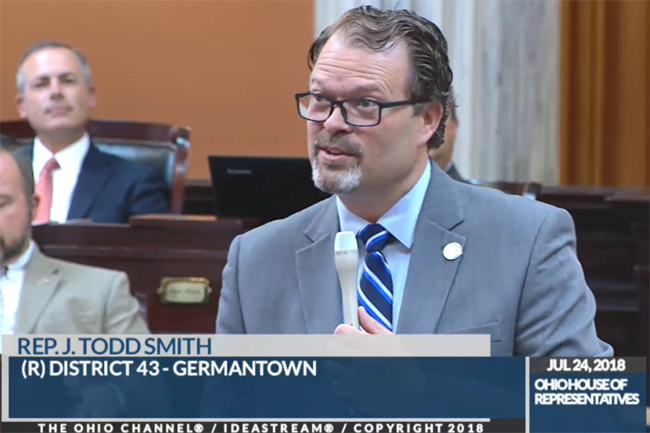 The race in the general election was between Democratic candidate Dan Foley and Smith, the Republican. It was view as a tossup race.
Late in the campaign, an attack ad suddenly appeared accusing Foley of misusing his authority during a traffic stop. The ad was funded by a political PAC which was being funded by Householder and FirstEnergy: Hardworking Ohioans, Inc. The Columbus Dispatch identified Hardworking Ohioans, Inc. as the entity referred to as "Dark Money Group 1" in the FBI affidavit.
Though Foley passed the sobriety test and was only cited with a speeding ticket, the ad closes with "We can't trust drunk Dan Foley."
Smith won by 137 votes.
From the FBI indictment:
"The clearest example comes from one highly contested House District race. Although the Enterprise initially backed Candidate 1 in the primary, Candidate 1 lost in the Spring 2018 primary, beat by Representative 2. In the general election, Representative 2 faced a tight race against the opposing party's candidate. However, Representative 2 ultimately prevailed by 137 votes. Representative 2's victory was credited to a negative ad run by Dark Money Group 1, which showed the opposing candidate taking a field sobriety test, yet only receiving a speeding ticket. The ad essentially accused the candidate of misusing his authority. Although the candidate and the police union condemned the ad, the damage was done-the opposing candidate, who reportedly had a 10-point lead before the ad aired, lost the election. Media reports credited the Dark Money Group 1 ad with tipping the scales."
Smith admits to being Representative 2 from the indictment and denies any connection to the ad.
"I did not raise that money. I did not spend that money. The first time I saw that commercial was 7 am when everyone else saw it," Smith said.
Representative 3 is Jamie Callender (Republican OH-61, Lake County)
The Columbus Dispatch has identified Representative 3 from the indictment as Jamie Callender. Callender's Lake County district includes the Perry Nuclear Power Plant.
From the indictment:
"Freshman representatives, Representatives 3 and 4, who were elected in November 2018, sponsored HB 6. Both were "Householder" candidates and Generation Now spent money supporting both by paying for advertising, campaign strategy, and staffing. Although Householder was not a listed sponsor of the legislation, on the day of the introduction, he publically supported the legislation and gave a press conference to explain how it would affect Ohio. During the recorded press conference, Householder characterized HB 6 as "the mysterious energy bill we've been working on for quite a while in the House of Representatives."
Additionally, Callender also received $18,700 in direct campaign contributions to his campaign from FirstEnergy.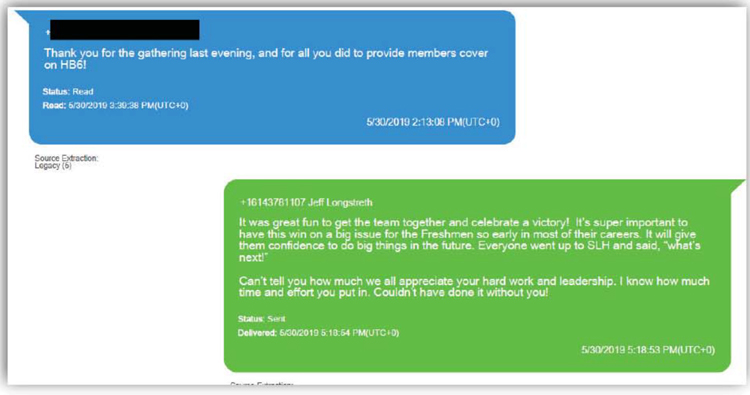 Callender has previously served eight years in the House with Householder, including during his previous tenure as speaker from 2001-2004.
In a statement posted to Twitter, Callender claimed he didn't understand any of what was going on until he read the indictment.
Representative 4 is Shane Wilkin (Republican OH -91, Hillsborough, Clinton, Highland, Pike counties and parts of Ross)
Representative 4 won election for the first time in 2018 with the help of Householder and FirstEnergy money.
Wilkin, in addition to Callender, had been tasked by Householder to sponsor the bill and see it through to passage.
In addition to the dark money advertising, Wilkin received $10,000 from a FirstEnergy PAC in 2018, another $3,000 during the summer of 2019 and $2,500 more that fall after the bill was signed into law.
Tim Barhorst and Stu Harris, benefactors of Hardworking Ohioans, Inc dark money advertisements
Since we know the political PAC Hardworking Ohioans, Inc. ("Dark Money Group 1") was financed by FirstEnergy and supported J. Todd Smith in OH-43, it makes sense to look at other districts where outside money political ads were run by the same PAC.
Two of these districts were in Franklin County, OH-21 and OH-19.
The candidates helped in these two districts respectively were Stu Harris and Tim Barhorst. Both Harris and Barhorst lost their general election races.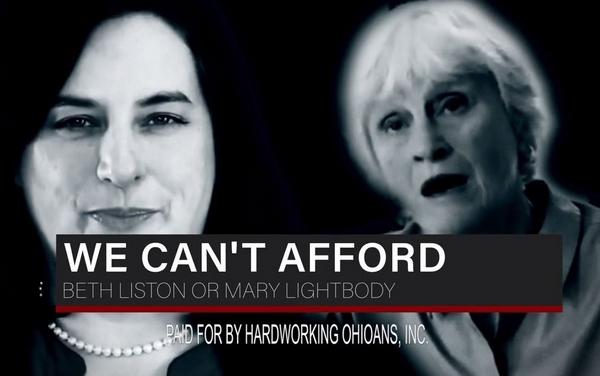 OH-21, OH-19 and J. Todd Smith's OH-43 were the only districts I could identify where Hardworking Ohioans, Inc. ran big outside ad spending buys.
Other clues from legitimate spending and HB6 support about possible Householder/FirstEnergy dark money beneficiaries
Four representatives (Smith, Callender, Wilkin and Householder himself) have all been identified as being assisted by dark money from FirstEnergy. Harris and Barhorst were candidates helped by outside ads from Hardworking Ohioans, Inc. and are almost certainly Householder identified representatives. This still leaves 15 other representatives who were helped in the 2018 election or primary by FirstEnergy money. 15 other representatives who were part of Team Householder and the passage of HB6.
In addition to Callender and Wilkin as sponsors, HB6 had 10 Republican co-sponsors in the House.
Here are the known donations from FirstEnergy and utility companies to 8 of the 10 other Republican sponsors:
Jon Cross (OH-83): $20,200 total, including $12,700 from FirstEnergy and $7,500 from AEP
Anthony DeVitis (OH-36): $34,415 total, including $33,915 from FirstEnergy and $500 from Dayton Power & Light
Brett Hillyer (OH-98): $13,207, all from FirstEnergy
Doug Jones (OH-95) : $1,500 total, including $1,000 from Duke Energy and $500 from FirstEnergy
Bill Reineke (OH-26): $1,500, all from FirstEnergy
Bill Seitz (OH-30): $16,000 total, including $6,500 from AEP, $5,000 from Duke Energy, $2,500 from FirstEnergy, and $2,000 from Dayton Power & Light
Dick Stein (OH-57): $2,000, all from FirstEnergy
Nino Vitale (OH-85): $3,500 total, including $2,500 from FirstEnergy and $1,000 from AEP
Seitz is the Republican Ohio House Majority Floor Leader, and DeVitis is the Assistant Majority Floor Leader.
In total, 40 of the 53 state representatives who voted for HB 6 received legitimate campaign contributions from utility PACs.
Again, it is unknown who the remaining 15 candidates/representatives who are mentioned as beneficiaries of FirstEnergy dark money in the FBI indictment, but it is likely to include some of the co-sponsors and/or other state representatives who voted for HB 6.
The Akron Beacon Journal has an excellent infographic that showcases where much of the Householder/FirstEnergy dark money went statewide.